Building Relationships: Partnering for Success
Building Relationships is designed to increase professional competence through the development of skills necessary to enhance relationships with associates and customers. Communication strategies are emphasized and participants develop tools to value differences in others in the work place.
In order to assess the components of an individual's behavioral style, participants utilize a self-directed, self-interpreted learning instrument designed to help organization members better understand their own behavior patterns and the behavior styles of others in the work environment. This tool not only assists in the understanding of one's own behavioral style and the environment most conducive to success, but also the differences of others and the environment they require for maximum productivity and teamwork in the work organization.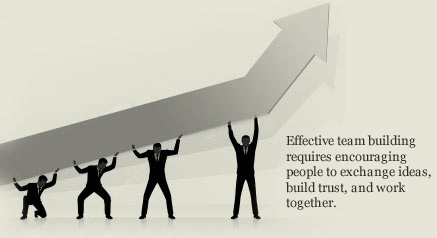 The purpose of Building Relationships Conference is to provide participants with the opportunity to develop new leadership skills and insights which will assist them in achieving higher levels of competence, commitment, and cooperation when working with associates and clients.
This team building conference presents a plan to help individuals understand themselves and others. This information enables participants to heighten their understanding of their work style and identify the environment most conducive to their success. At the same time, professionals learn about the differences in others and the environment that others require for maximum productivity and harmony in the organization.
Effective team building requires encouraging people to exchange ideas, build trust, and work together. By developing strong interpersonal relationships, professionals can reduce conflict, gain cooperation, and increase team productivity.

Need more information?
If you need more information about our individual and organizational development services we encourage you to contact us. We will discuss your current situation and help assess the best solution for your organization.